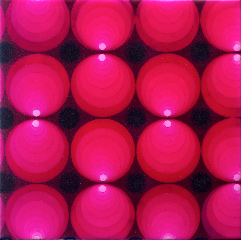 Composing small-scale paintings in acrylic, layered color on color with a seemingly waxy patina, Simpson's translucent fields hold geometric systems of repetition which self-destruct and re-invent themselves, veering on and off the grid in deceptively vast space.
Simpson concerns herself conceptually with celebrating the ordinary rather than the dramatic. By layering paint, she mimics life's layering of events. As colors and surface signify moments, so she accumulates time on her canvas. The abstract images before her evolve into a language of memory. "The result," she states, "is an irregular geometry which acknowledges imperfection, reflecting the lived life."
Hester Simpson is included in many public collections around the country including the Library of Congress, and has taught at a number of institutions including Parsons School of Design in New York, the School of the Art Institute of Chicago and Tyler School of Art in Philadelphia. She lives and works in the Manhattan area.
Hester Simpson is represented by Ricco Maresca Gallery, NYC